Dental Hygienist Manchester
Keeping up-to-date on your dental hygiene is the best way to ensure your teeth stay healthy for years to come. Maintaining good oral health helps prevent tooth decay, vastly reduces the chance of developing gum disease, and contributes to fresh breath.
Despite all these benefits, it can be tough to know where to start with oral health. By booking an appointment with one of our highly experienced dental hygienists, you can kickstart your journey to healthier teeth and gums.
Dental Hygienist Services
Keeping your teeth clean and hygienic is an important step in maintaining great oral health. To help you out, our dental hygienists offer a comprehensive service that will eliminate plaque, help to freshen bad breath, and contribute towards a healthy mouth.
Whether you're having another dental treatment with our dental team or not, visiting the hygienist is always a good idea. Aside from removing plaque from your teeth, a dental hygienist will also offer professional advice on how you can look after your teeth and gums properly at home so you can keep your mouth healthy between regular visits to the dentist.
Hygienist Appointments
A hygienist appointment will start with an initial oral hygiene check-up so that your practitioner can assess the best treatments for you. This will be followed by a 'scaling' procedure, where the hygienist will carefully remove any plaque build-up from on and around your teeth.
All cleaning procedures are completed using state-of-the-art equipment and tools. These tools allow the hygienist to reach every part of your teeth and mouth, providing a deep clean that is impossible to replicate with a standard toothbrush.
Your hygienist will also keep an eye out for any signs of dental problems. When it comes to oral health, prevention is always better than cure, but if there are some issues, you'll be given expert advice on a good oral hygiene routine. Treating gum disease and other dental problems is always more straightforward when spotted early. Your dental hygienist can also demonstrate tooth brushing to ensure you are cleaning your teeth and gums properly.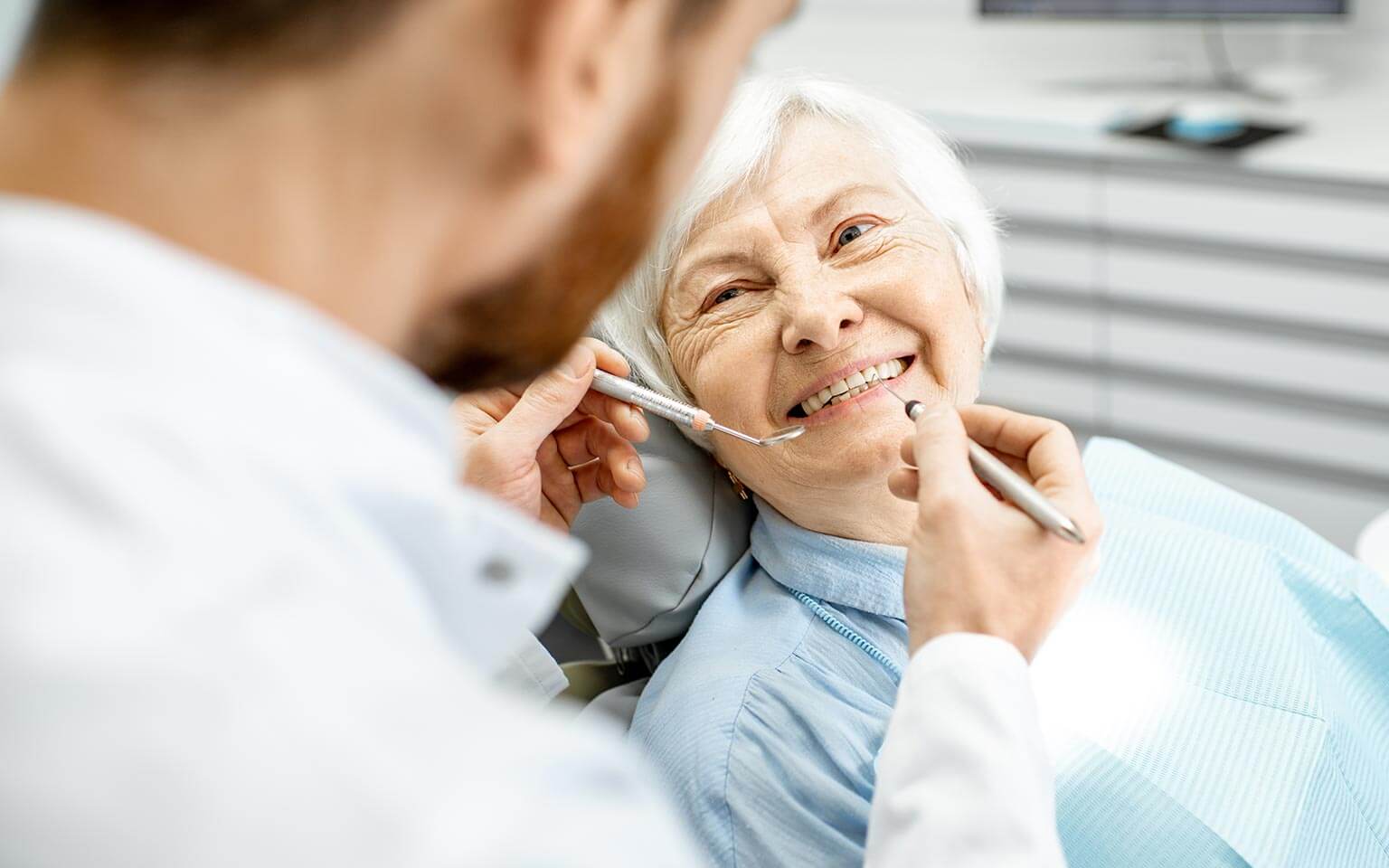 Air N Go Airflow Polishing
One of our most popular dental hygienist services is Airflow Polishing. The Airflow system uses a combination of powder, water and air to blast your teeth and quickly remove plaque and tartar build-ups.
Despite the power and speed of the process, it is extremely comfortable and safe. It's a great alternative to traditional scraping tools, especially if this is so something you feel squeamish about.
Find out more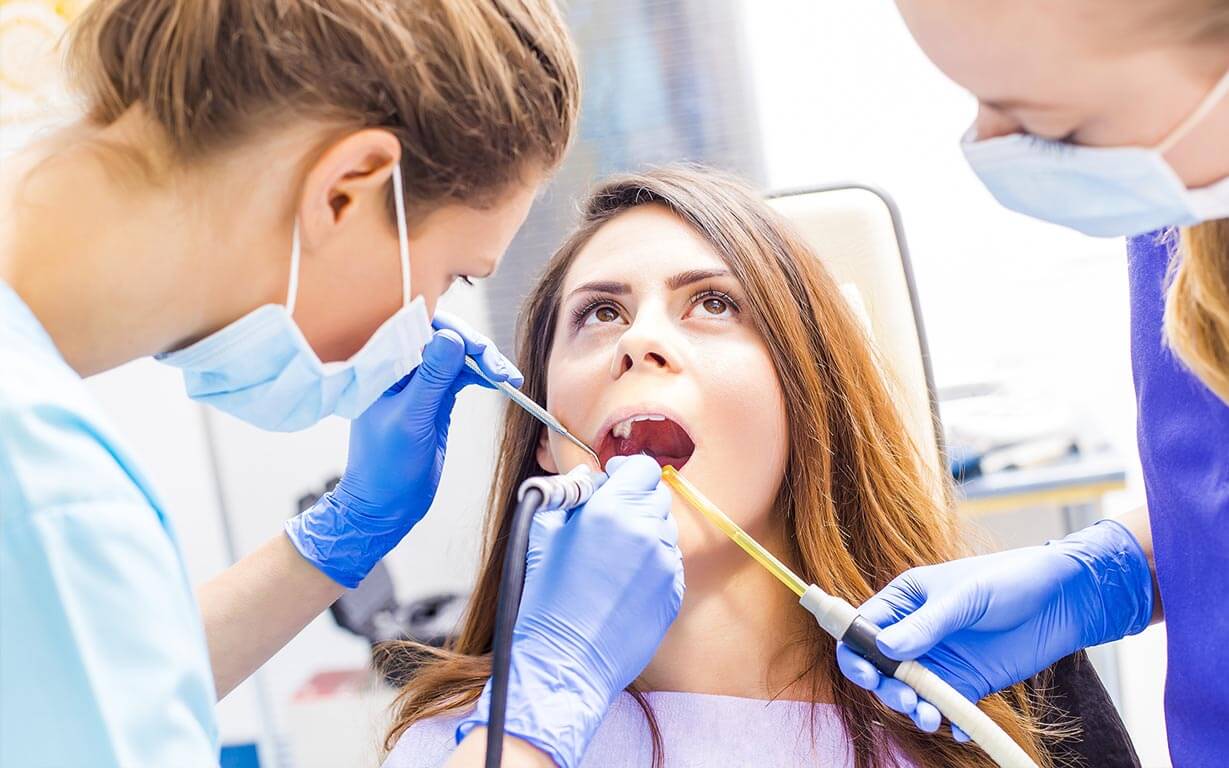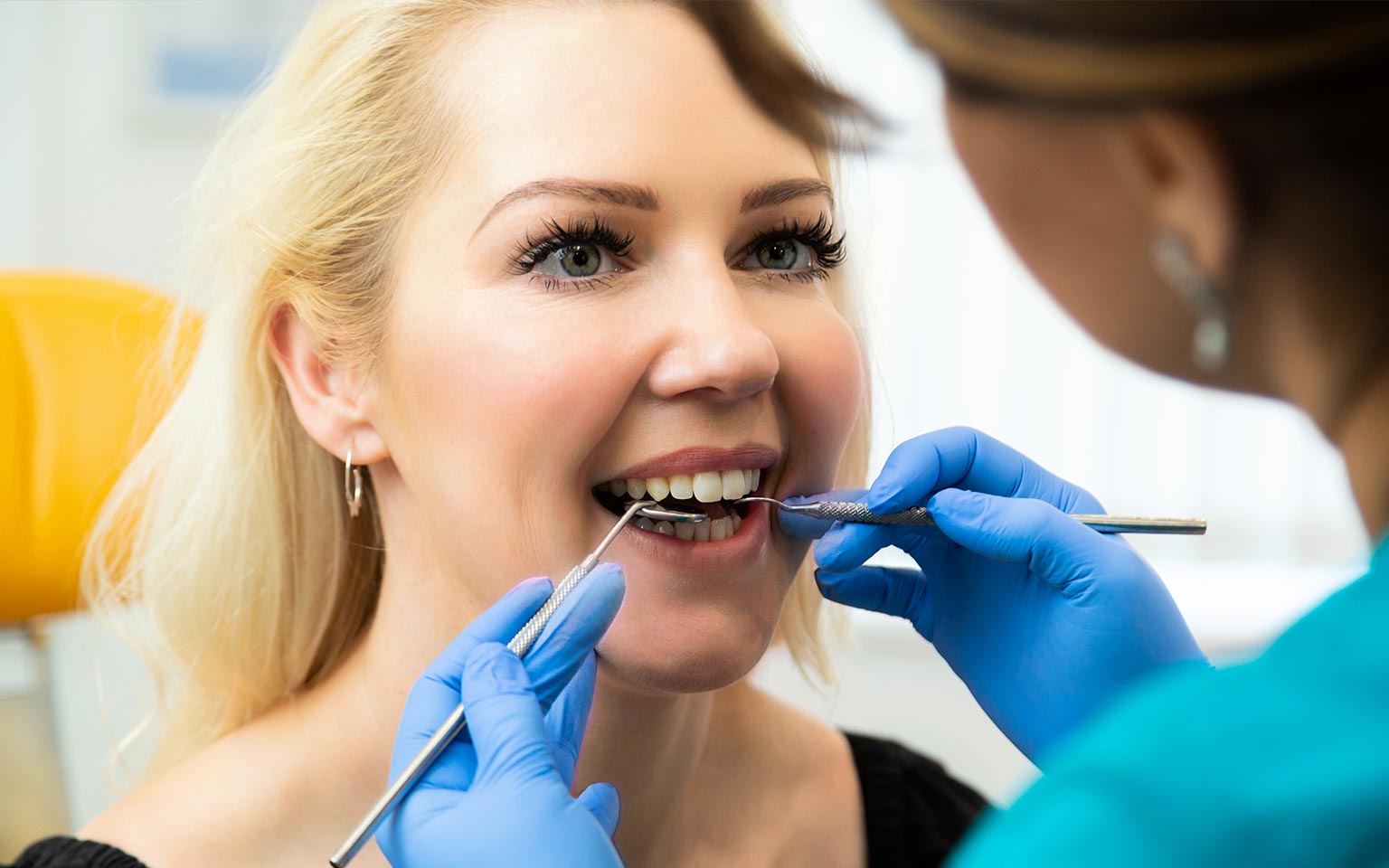 Why Choose Smile Chic for teeth cleaning?
If you're looking for an experienced dental hygienist near Manchester, then you don't need to look any further than Smile Chic. Our dental team has the expertise and knowledge to craft the best possible dental plan for you and will offer support every step of the way.
Our highly qualified dental hygienist practitioners have access to the latest equipment and technology. As a result, all procedures are completed to an incredibly high standard – you'll leave with your teeth feeling fresh and a re-found confidence in your smile.
Our customer-first approach has been the biggest driver behind the success of our dental practice. Following consultations with our team, every client is given a unique dental plan to guide them towards healthier teeth and the smile they've always dreamed of.
There are many great dental practices in and around Manchester, but our prime location in Hale, Altrincham, is up there with the best. Smile Chic is easily accessible from a large surrounding radius.
Airflow polishing before and after examples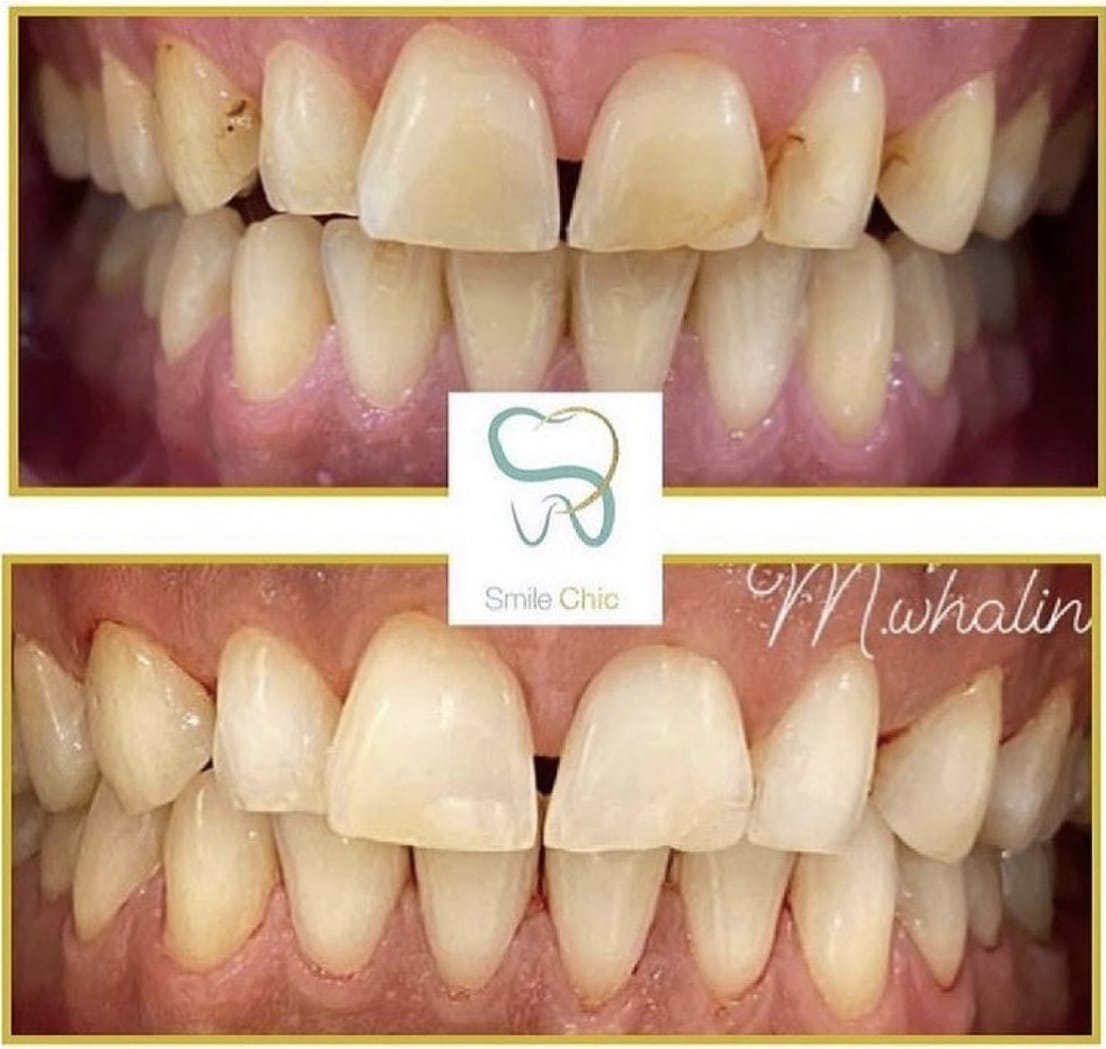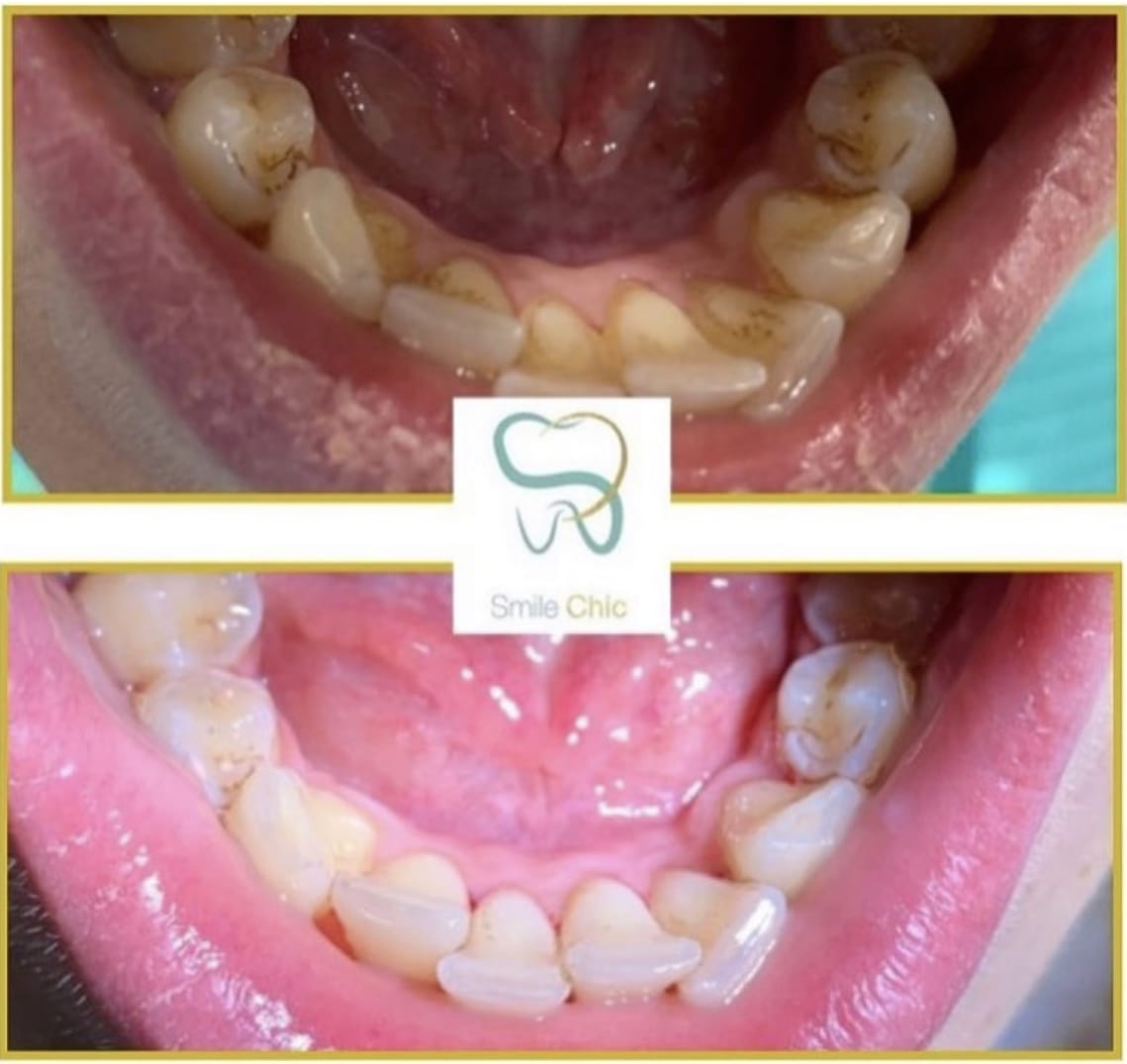 Frequently asked questions
Dental Hygiene FAQs
What is good oral hygiene?
Oral hygiene can seem like a vague term, but what exactly does "good" dental hygiene mean?
Firstly, it means that your gums and teeth are clean. The best way to achieve this is to brush at least twice a day for two minutes. Regular flossing is also recommended to keep your mouth healthy.
You should also make sure that you're using high-quality dental products during your daily routines. Fluoride toothpaste is essential for healthy teeth, and good dental floss is the best way to eliminate trapped plaque.
We'd always recommend visiting a professional dental hygienist regularly to guarantee that you're staying on top of your dental health. Dental hygienists can perform a much deeper clean than what is possible at home and can also spot tooth decay and gum disease problems before they get more serious.
What does a hygienist do to your teeth?
At Smile Chic, an appointment with one of our hygienists will always begin with an initial oral hygiene check-up. This process allows us to work out exactly what you'd benefit from, and the hygienist can then tailor your session around your needs.
This check-up will be followed by a 'scaling' process. This is where the hygienist gently and carefully removes any plaque and tartar built up around your teeth. All hygiene procedures are completed using state-of-the-art equipment that has been specially designed for the best dental health.
A session with a hygienist will be completed with a thorough clean, and comprehensive analysis of your gum health. After a quick polish, you'll be sent on your way, confident that you have healthy teeth and healthy gums.
What are the benefits of visiting a dental hygienist?
Visiting a hygienist is by far the most reliable way to ensure that your teeth and gums are in healthy condition.
Regular sessions will work to eliminate any hidden plaque from your teeth, preventing tooth decay and greatly reducing the chance of gum disease. It's almost impossible to achieve the same level of cleanliness at home with your toothbrush.
Experienced hygienists can also help you develop the whiter and brighter smile you've been dreaming of. With access to all the latest technology and equipment, your Smile Chic hygienist has everything necessary to freshen up your smile.
How old should you be to visit the hygienist?
Although dental hygienist sessions are typically geared towards adult teeth, that doesn't mean that children can't get a lot out of the process.
Oral health and regular dental care is important for baby teeth, and having good oral hygiene is the best way to ensure healthy development.