Root Canal Procedures in Manchester
It is very important to treat root canal problems at the earliest possible stage. Leaving a badly decayed or infected tooth untreated causes a lot of pain and can be dangerous. If you would like more information on how to treat cracked teeth or look at root canal treatment options, please contact Smile Chic at our dental clinic near Manchester where we will be happy to discuss any questions you may have.
If you have been experiencing severe tooth pain, it is possible that you may require root canal treatment. If your tooth has become damaged or cracked, you have tooth decay, large fillings or have recently had a trauma to the tooth, the chance of needing a root canal procedure increases, as these scenarios all leave your tooth open to infection.
Root canal treatment (or endodontics) is required when there is an infection deep within your tooth. The blood or nerve supply may be infected either due to an injury or a severe cavity. You may not experience any pain or discomfort during the early stages of an infection, however if your tooth changes colour and darkens that is a sign that your tooth nerve is in danger of dying. If left untreated, this kind of infection can not only be very painful, but can lead to a tooth abscess or even tooth loss.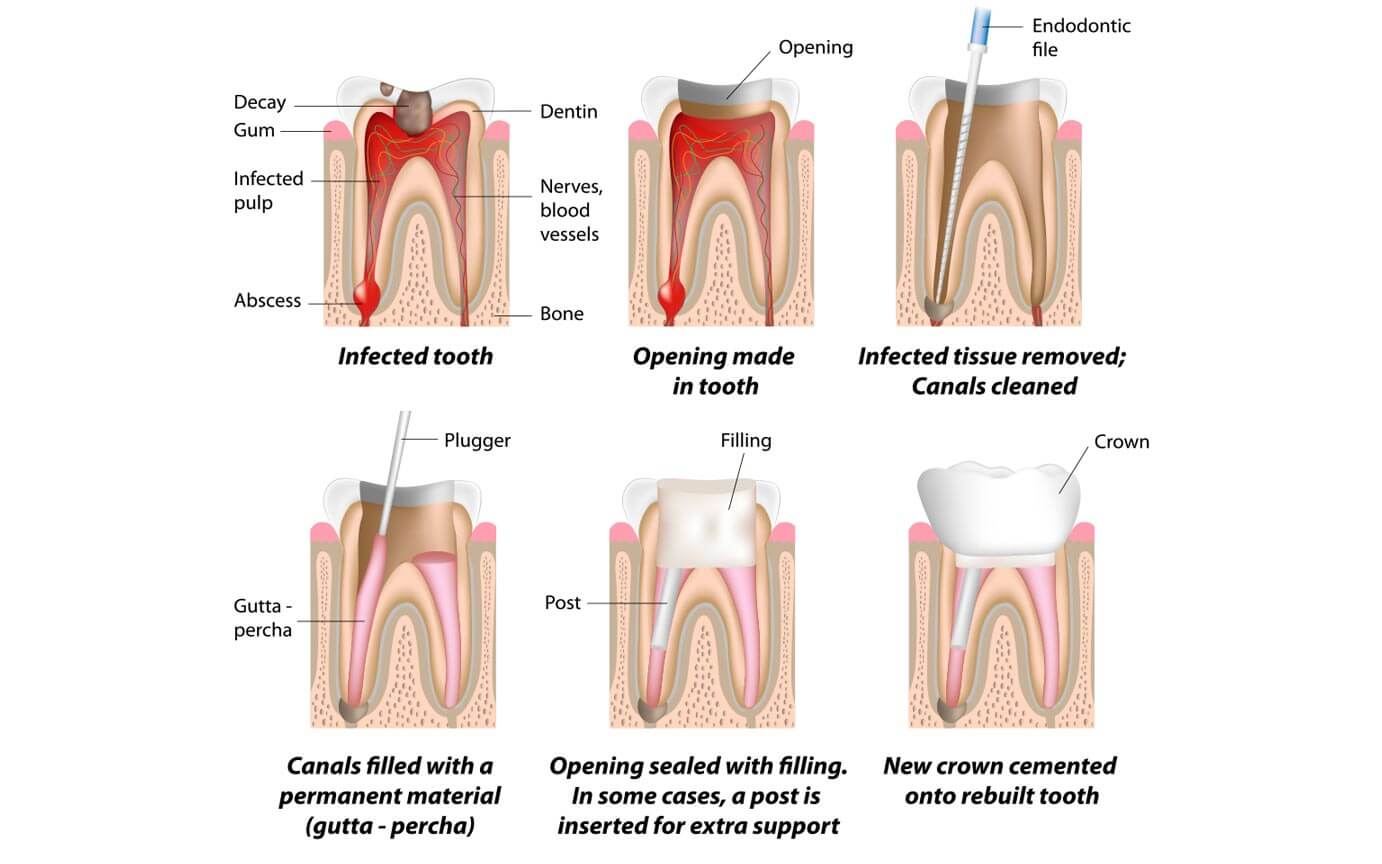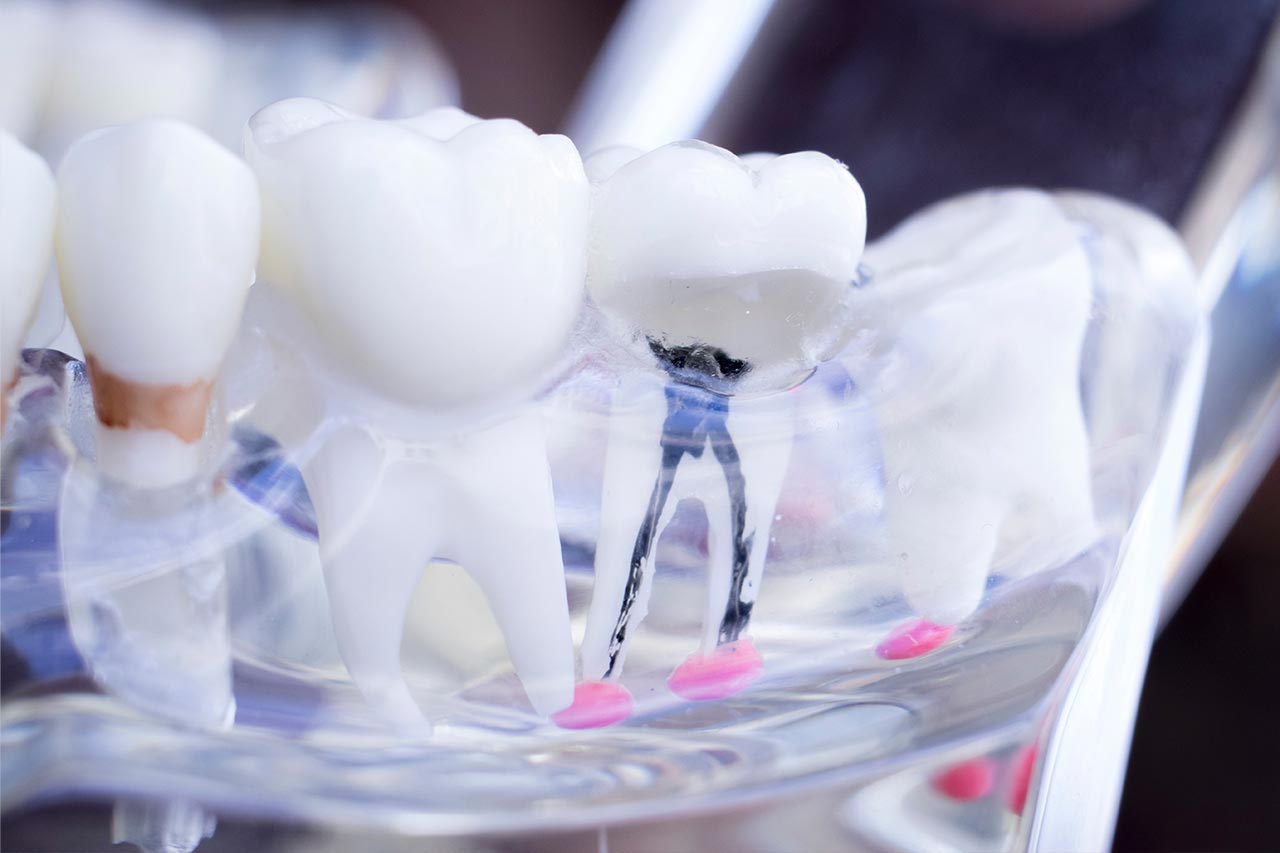 Root Canal Treatment
Root canal treatment is also known as Endodontics and may strike fear into the hearts of many patients, but it is necessary because without it you could lose your tooth. It's also nothing to be afraid of.
Root canal treatment involves clearing the infection from the tooth with special files, under a binocular microscope. The space inside the root is then cleaned and filled to prevent further infection. It is common to place a dental crown on top of the tooth at the end of the procedure, to provide extra strength. Treatment is carried out under local anaesthetic so should be pain-free, and will require one or two visits to our dental clinic.
Teeth at the front of the mouth commonly have one root with one root canal, while teeth at the back have a more complex system of two or more roots, each with one or two root canals. For that reason, the length of the root canal procedure will depend on the location of the affected tooth and how complex its root canal system is. On average, treatment lasts one to two hours. If you need more than one appointment, you will be given a temporary filling to keep food particles and bacteria out of the root canal. The success rate for endodontic treatment is between 85 and 95%.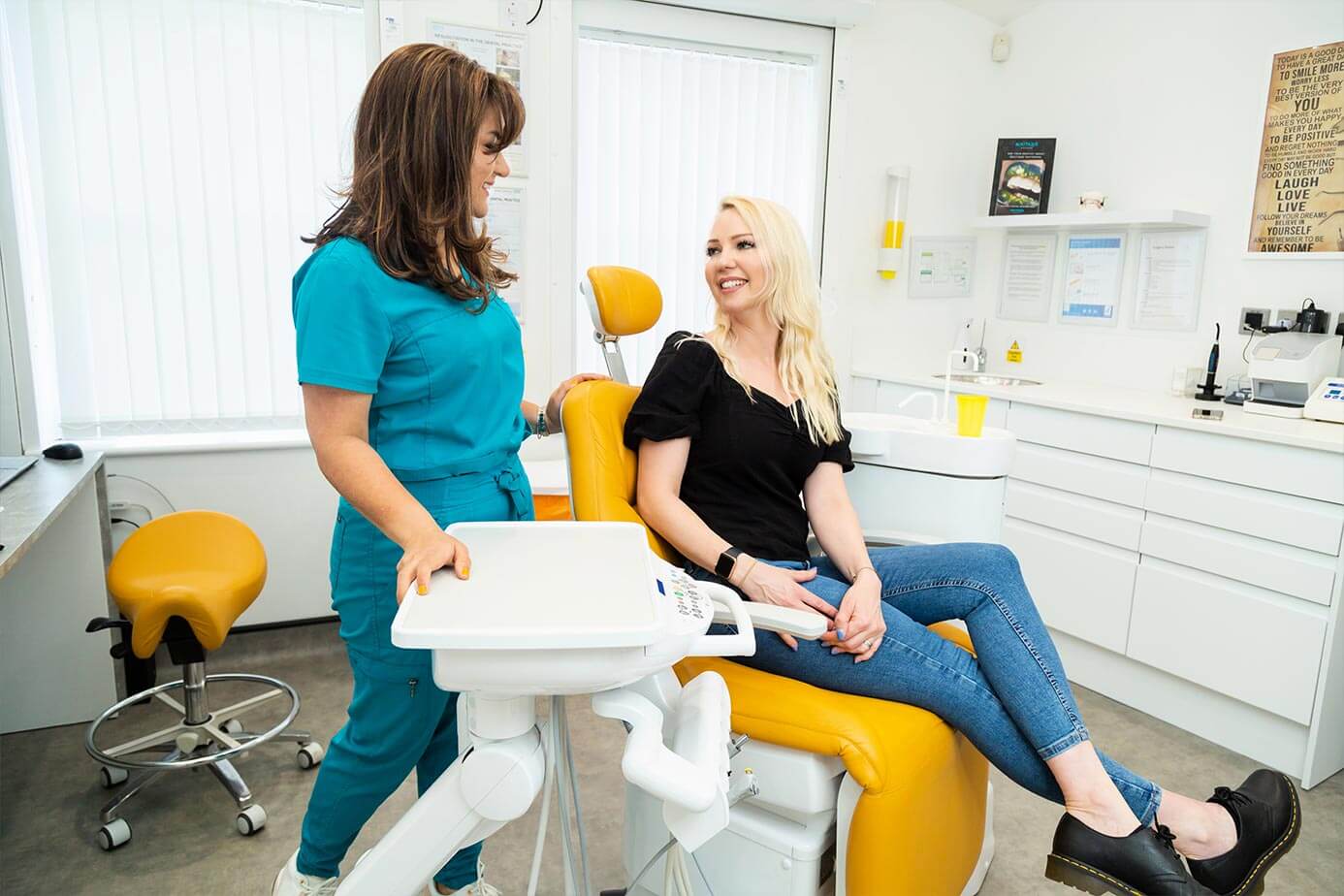 Testimonials
"Visited Smile Chic for the boutique whitening, would highly recommend. Really friendly and helpful staff!"

Gina Wilbourn (UK)

"The difference in such a short space of time is fantastic. I'm so happy with the results. Dr Rad and the team were so welcoming and friendly. We love our visits to the dentist!"

Ryan Ayres

"Dr Rad is amazing and very professional in her job. She explained step by step in details carefully to her patient and make patient aware totally about her job. I am so happy to find her and strongly recommend her to everybody"

Behzad Babaee
Frequently asked questions
Why Consider Root Canal Treatment
Why is root canal treatment necessary?
When the dental pulp becomes diseased or dies, it can cause pain and swelling. Without treatment, the infection could progress, even in the absence of pain, and the tooth may need to be removed.
Root canal treatment will help retain the tooth, preserve your appearance, allow you to chew with comfort and help maintain neighbouring teeth.
What is the alternative to root canal treatment?
What happens after root canal treatment?
You will return to your dentist for a definitive restoration. This may involve a crown to protect the tooth and restore it to full function. You will be recalled after 6 months to 1 year following treatment to monitor the extent of healing.
How do I avoid a root canal?
Root canal treatment can be avoided by practicing good dental care. Regular visits for dental check ups mean that your dentist is in a good position to pick up on any problems you may not have noticed. They will check any current fillings or crowns for damage or cracks. By treating issues in the early stages you avoid infections and further complications that would ultimately lead to endodontic treatment.
Tooth decay is one of the common reasons for root canal infections. You can keep tooth decay at bay by brushing and flossing regularly, chewing sugar-free gum between meals and reducing the number of fizzy drinks and sugar in your diet.