False Teeth in Manchester
Dentures are removable false teeth made of acrylic (plastic), nylon or metal. They fit snugly over the gums to replace missing teeth and eliminate potential problems caused by gaps.
Gaps left by missing teeth can cause problems with eating and speech, and teeth either side of the gap may grow into the space at an angle.
Sometimes all the teeth need to be removed and replaced.You may therefore need either:
Complete dentures – which replace all your upper or lower teeth,
Partial dentures – which replace just one or a few missing teeth,
Dentures may help prevent problems with eating and speech and, if you need complete dentures, they canalso improve the appearance of your smile and give you confidence.
Smile Chic is a private dental clinic in Hale, Altrincham. Our expert dentists can help by replacing your missing teeth with partial dentures, complete dentures or dental implants.
Complete dentures
our dentist will take measurements and impressions (moulds) of your mouth, and then order your full or partial dentures from a dental technician.
A trial denture will be created from the impressions taken of your mouth.
The dentist will try this in your mouth to check the fit and for you to get an idea of how it will look.
The shape and colour may be adjusted before the final denture is produced.
A full denture will be fitted if all your upper or lower natural teeth need to be removed or you're having an old complete denture replaced.
The denture will usually be fitted as soon as your teeth are removed, which means you won't be without teeth. The denture will fit snugly over your gums and jawbone.
But, if you have dentures fitted immediately after the removal of several teeth, the shape of the gums and bone will alter fairly quickly and the dentures will probably need relining or remaking after a few months.
Occasionally, your gums may need to be left to heal and alter in shape for several months before dentures can be fitted.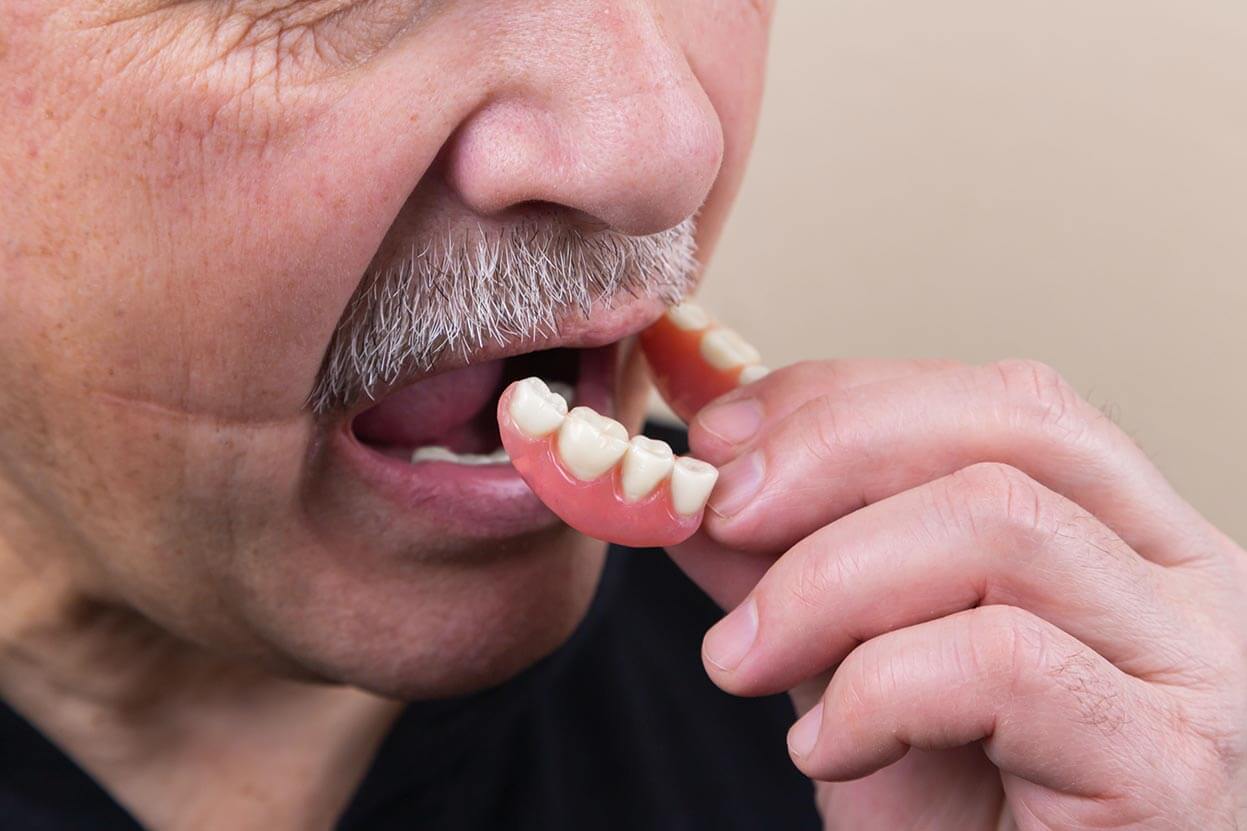 Partial dentures
A partial denture is designed to fill the gaps left by one or more missing teeth. It's a plastic, nylon or metal plate with a number of false teeth attached to it.
It usually clips onto some of your remaining natural teeth via metal clasps, which hold it securely in place in your mouth. It can easily be unclipped and removed.
Occasionally, the clips can be made of a tooth- or gum-coloured material, although this type of clip isn't always suitable because it tends to be more brittle than metal.
Your dentist can measure your mouth and order a partial denture for you.
A fixed bridge or dental implants are a more permanent alternative to a partial denture and could be suitable for you.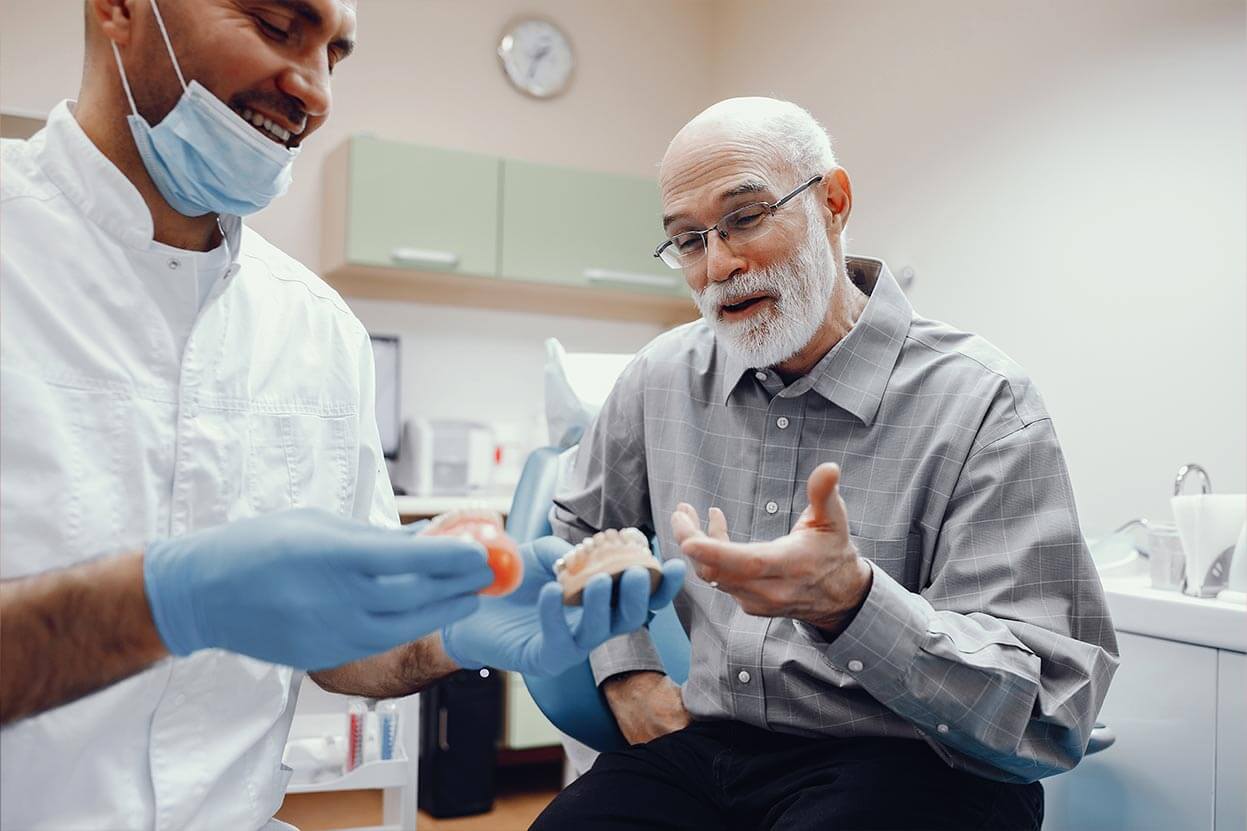 Looking after your dentures
They may feel a bit strange to begin with, but you'll soon get used to wearing dentures.
At first, you may need to wear your new dentures all the time, including while sleeping.
Your dentist will tell you whether you should remove your dentures before you go to sleep.
You won't always need to remove your dentures at night, but doing so can allow your gums to rest as you sleep.
If you remove your dentures, you should keep them moist – for example, in water or a polythene bag with some dampened cotton wool in it, or in a suitable overnight denture-cleaning solution.This will stop the denture material drying out and changing shape.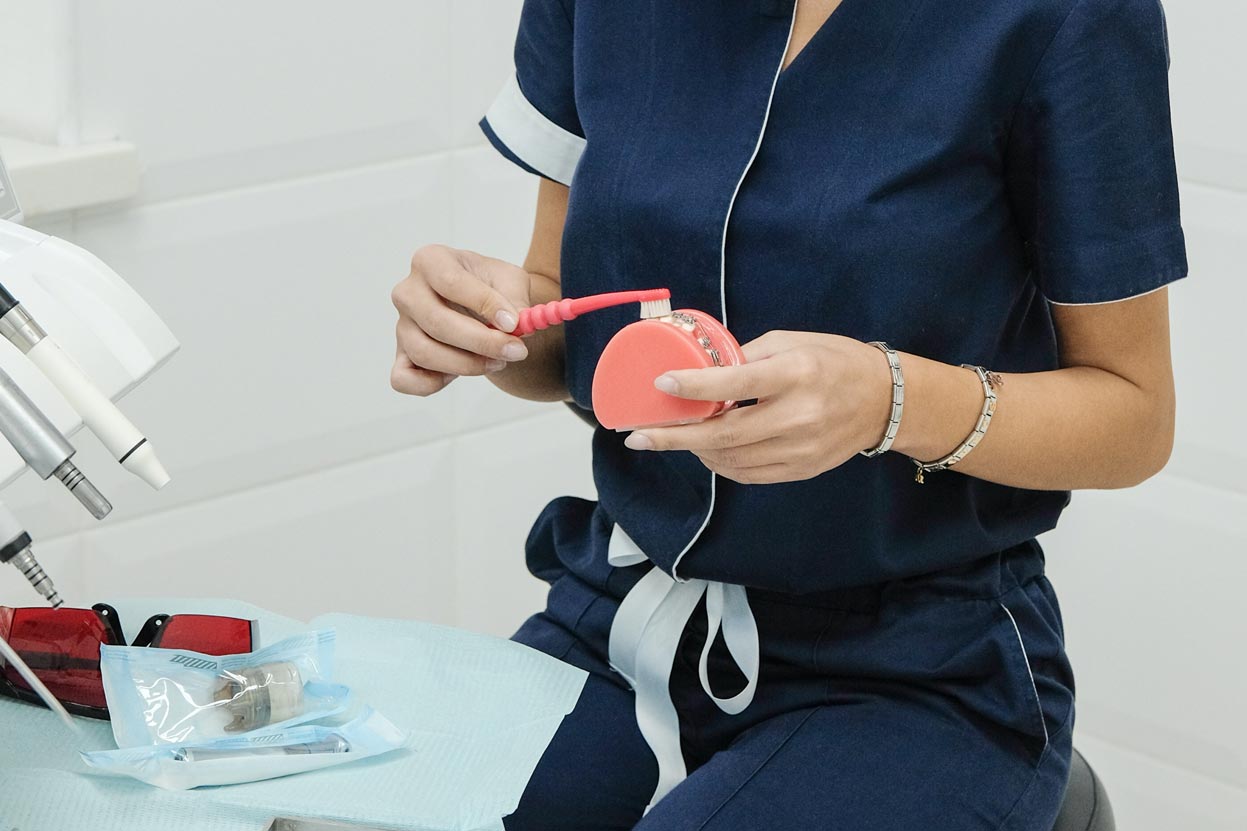 Dental hygiene
Keeping your mouth clean is just as important when you wear dentures as when you're looking after a full set of teeth.
You should brush your remaining teeth, gums and tongue every morning and evening with fluoride toothpaste to prevent tooth decay, gum disease and other dental problems.
Cleaning dentures
It's important to regularly remove plaque and food deposits from your dentures. This is because dirty dentures can also lead to problems, such as bad breath, gum disease, tooth decay and oral thrush.
Always clean your dentures as often as you would normal teeth (at least twice a day: every morning and night).
You should:
brush your dentures with toothpaste or soap and water before soaking them to remove food particles,
soak them in a fizzy solution of denture-cleaning tablets to remove stains and bacteria (follow the manufacturer's instructions),
brush them again as you would your normal teeth (but don't scrub them too hard)
Dentures may break if you drop them, so you should clean them over a bowl or sink filled with water or something soft like a folded towel.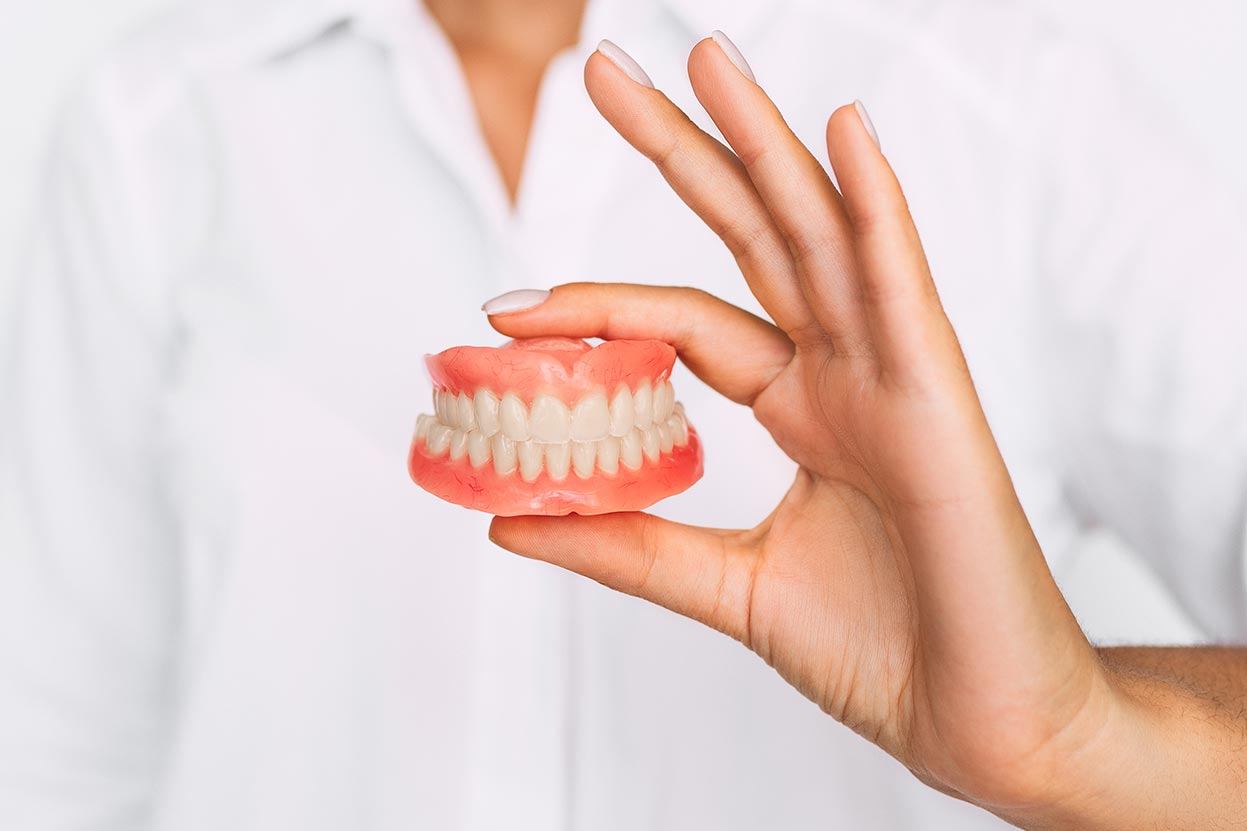 Eating with dentures
When you first start wearing dentures, you should eat soft foods cut into small pieces and chew slowly, using both sides of your mouth.
Avoid chewing gum and any food that's sticky, hard or has sharp edges.You can gradually start to eat other types of food until you're back to your old diet. Never use toothpicks.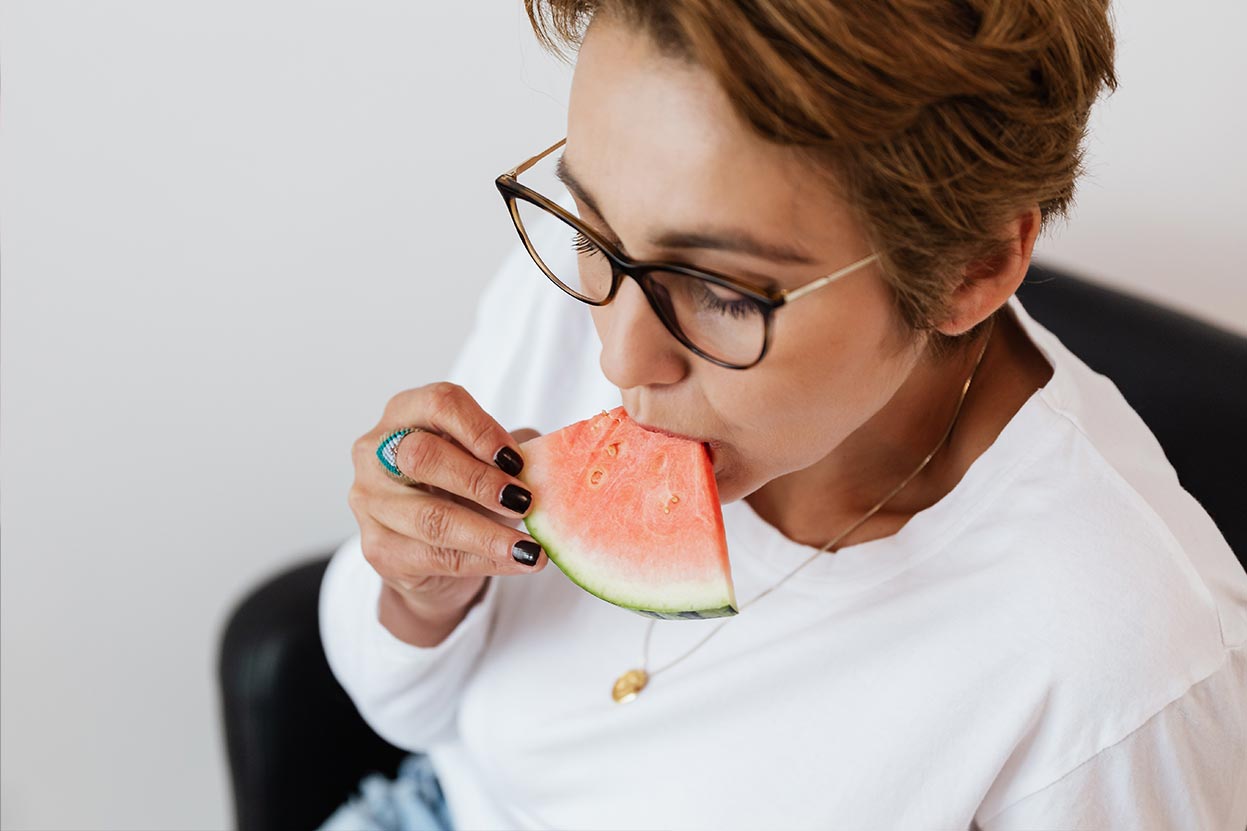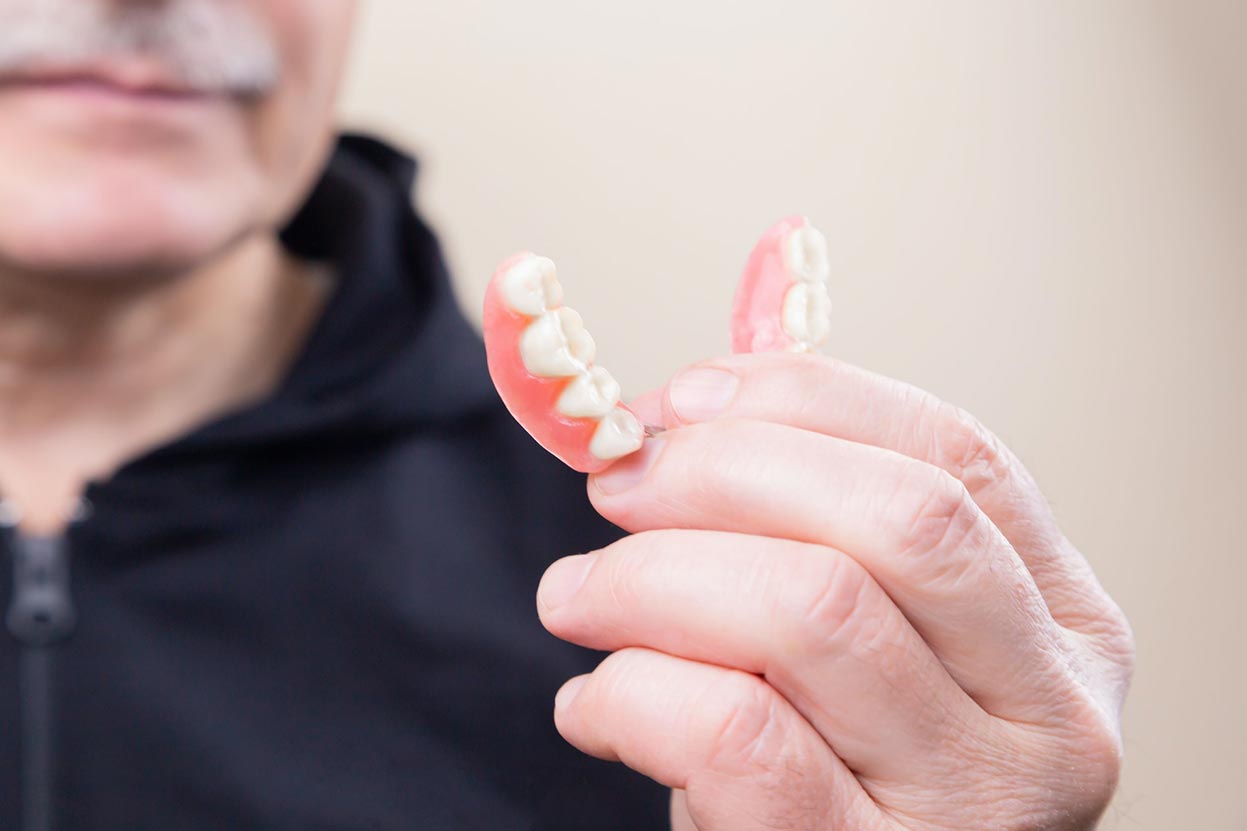 Denture adhesive
If your dentures fit properly, you shouldn't need to use denture fixative (adhesive).
But if your jawbone has shrunk significantly, adhesive may be the only way to help keep your dentures in place.
At first, some people feel more confident if they use denture adhesives. Follow the manufacturer's instructions and don't use more than the recommended amount.
Adhesive can be removed from your denture by brushing with soap and water.
You might need to remove remnants of adhesive left in your mouth – use some damp kitchen roll or a clean damp flannel.
Are dentures right for you?
If you're looking for the best solution for replacing missing teeth, then conventional dentures may be the right choice for you. To talk through your options or to book an appointment with a private dentist, contact the Smile Chic private dental clinic in Hale, Altrincham.
Book online now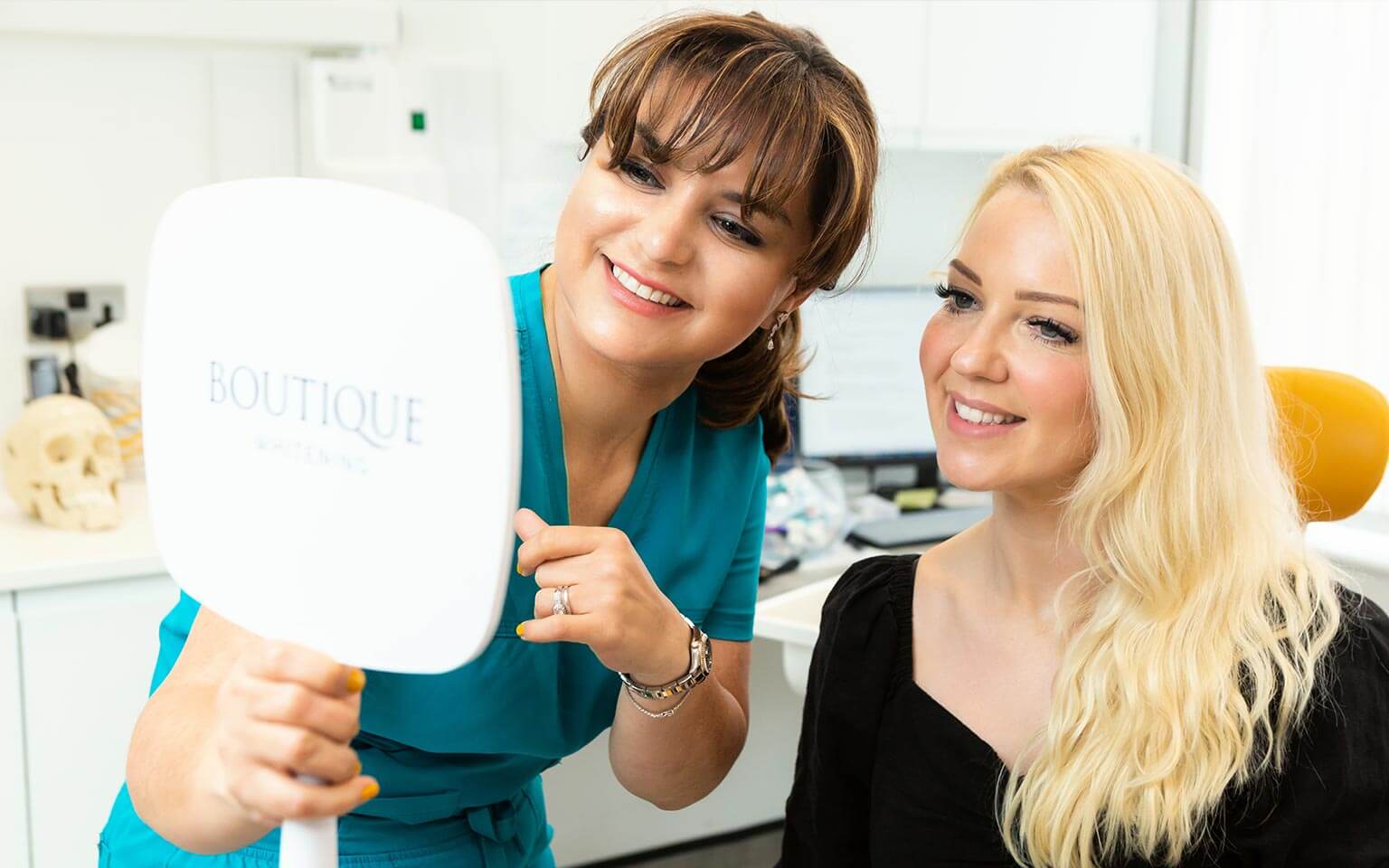 Testimonials
Here's why 85% of our clients rebook
"I had 5 to 5 Emax veneers on my top teeth and they turned out so natural looking with such quick turn around time. Persheng was so professional and lovely as well as the dental nurse there I highly recommend!"

Molly James

"Fantastic service from start to finish! I cannot be more happy with the service I have received at Smile Chic. I have been using an NHS dentist for years and would never go back. Persheng Rad is a fantastic dentist, she is patient and listens to your concerns/ outcome of what you want you achieve with treatments. 5* service and will continue to return for dental treatment"

G R

"Highly recommended... I had whitening, which produced amazing results In just one week. Also I had composite bonding and the result was more than I could of wished for, my smile is now perfect. My overall experience at Smile Chic was brilliant, friendly staff and clean safe environment. The way Smile Chic follow up with their emails offering advice goes above and beyond customer service."

Leanne Kinsey
Dentures before and after examples