Dental Implant Treatment in Manchester
Losing a tooth can not only go on to cause dental issues – but it can also have an impact on your confidence. Dental implants can offer a more permanent solution to this problem than dentures.
Whether your tooth loss is due to gum disease, infection, tooth decay, or even trauma, a single dental implant made using cutting-edge technology by an expert implant dentist will ensure a long-term solution that will help you regain your confidence.
Missing teeth can result in the remaining natural teeth shifting and becoming crooked. As well as the cosmetic impact of losing a tooth, there can also be other side effects, including becoming more susceptible to gum disease.
Dental implant surgery offers a long-term solution to this issue, with many services available depending on your personal circumstances.
Smile Chic is a private dental clinic specialising in implant dentistry. We can recommend the best dental implants to replace your missing teeth and give you the confidence to smile. Book an appointment today!
Tooth Implant Services
Many dental implant services are available depending on your needs, and dental implants offer various options. They offer an alternative to those who do not want to go down the route of removable dentures.
Implant dentistry is when titanium implants are surgically inserted into the jawbone. Benefits of implant treatment include the longevity of the results and the avoidance of bone damage through fixed bridgework and dentures.
Single Dental Implant
A single dental implant can help those with a missing tooth looking for a more permanent solution. You would initially be fitted with a titanium implant screw that acts as an artificial tooth root.
This procedure will occur under local anaesthetic and can take between 3-6 months to fully heal and provide the necessary support for the dental implant.
It is possible to fit a temporary crown as a replacement tooth until the final implant is fitted. When the jaw is healed, you will choose a titanium, gold, or porcelain implant abutment. An abutment is fixed to the implant and would then securely hold the crown.
Matching the crown to the colour of your existing teeth gives a look that perfectly blends in with natural teeth.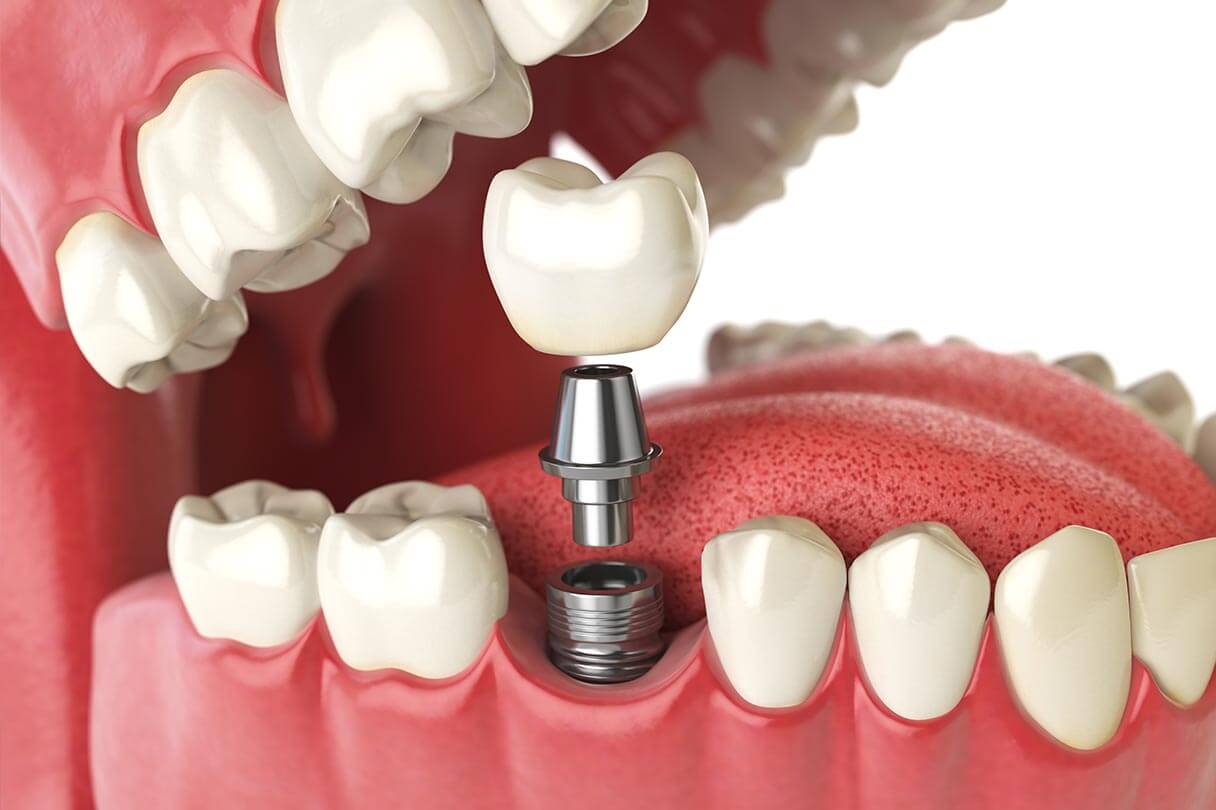 Multiple Dental Implants
If you have multiple missing teeth, this dental implant treatment can be carried out in much the same way as the single dental implant.
The dental implants function the same way as a single dental implant, and there are further options for people who might have considered a dental bridge or dentures.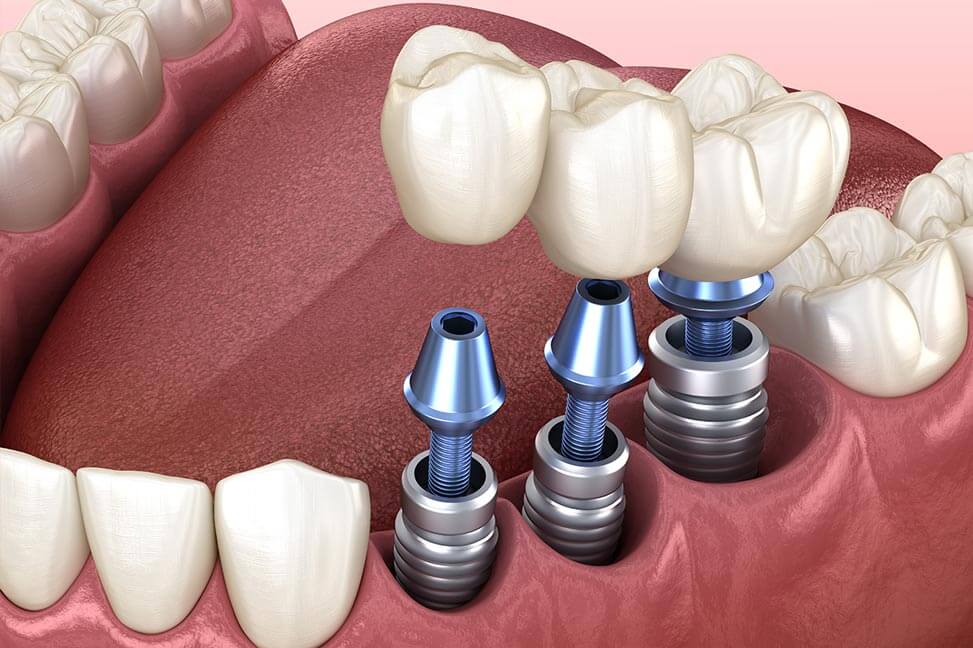 Dental Implant Bridge
A dental implant bridge would be carried out when several teeth are missing in a row.
This would be done by using implant screws to hold the crowns, or replacement teeth, in place without impacting the area's healthy natural teeth.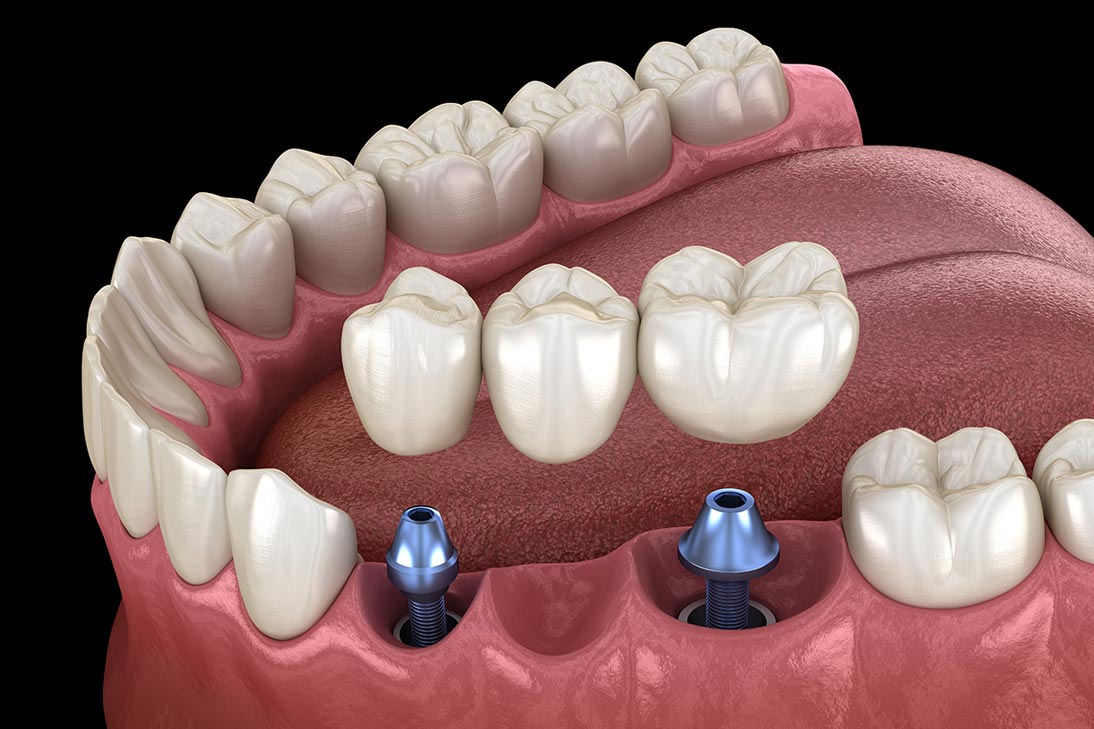 Dental Implant Dentures
Dental implant dentures offer the patient confidence they would not have with regular dentures. The risk of ineffective denture adhesive or receding bone and gums could result in the dentures falling out or slipping.
The procedure would see several implants embedded into the jaw bone, which would lock the denture. This option can also be cost-effective in the long term as they are easier to maintain than regular dentures resulting in fewer trips to the dentist.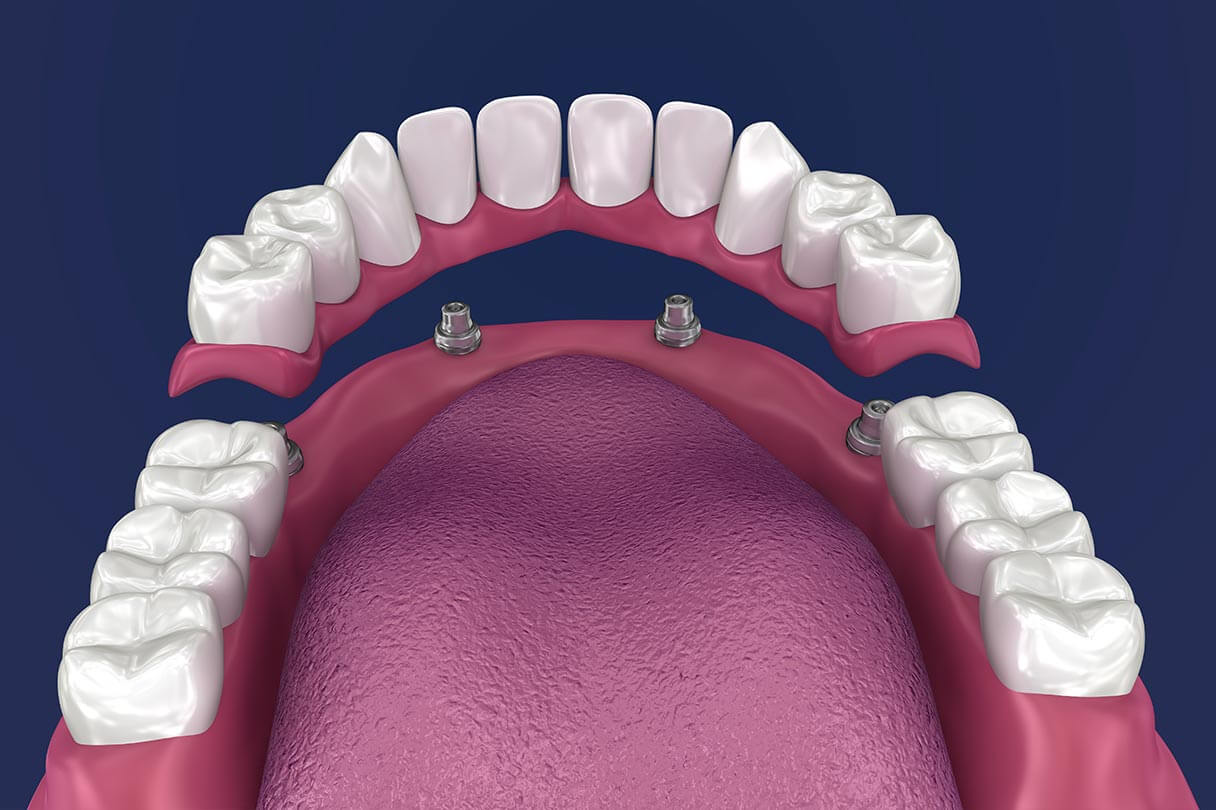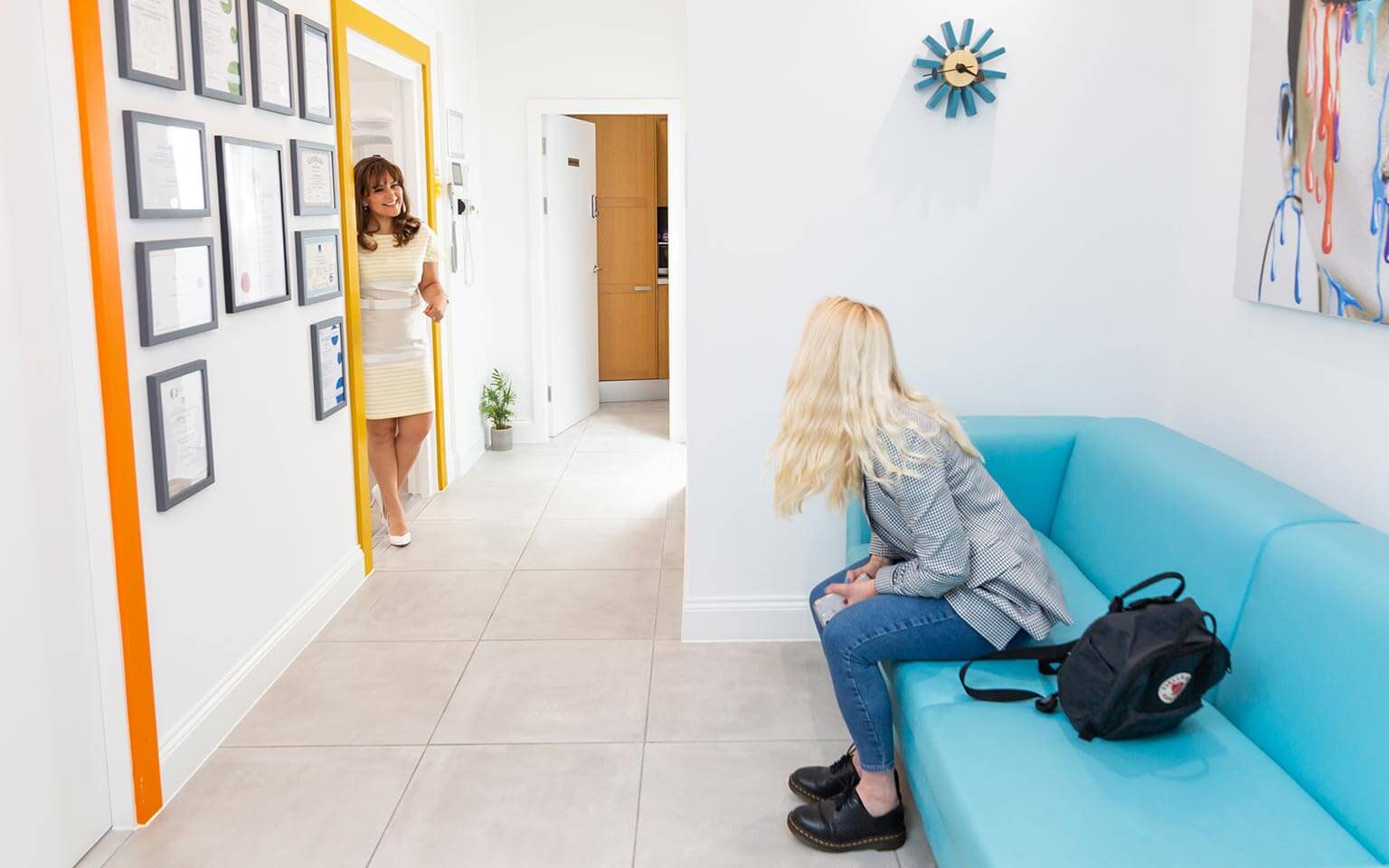 Why Choose Smile Chic?
With a reputation of offering expert dental care and many highly qualified dentists that undergo regular training, we are happy to provide a full menu of dental implants and cosmetic dental treatments that will give you the healthy smile you always dreamed of.
With a focus on safety and improvement, you can rest assured that you are in the most capable hands with dental specialists offering the latest techniques to improve your dental care.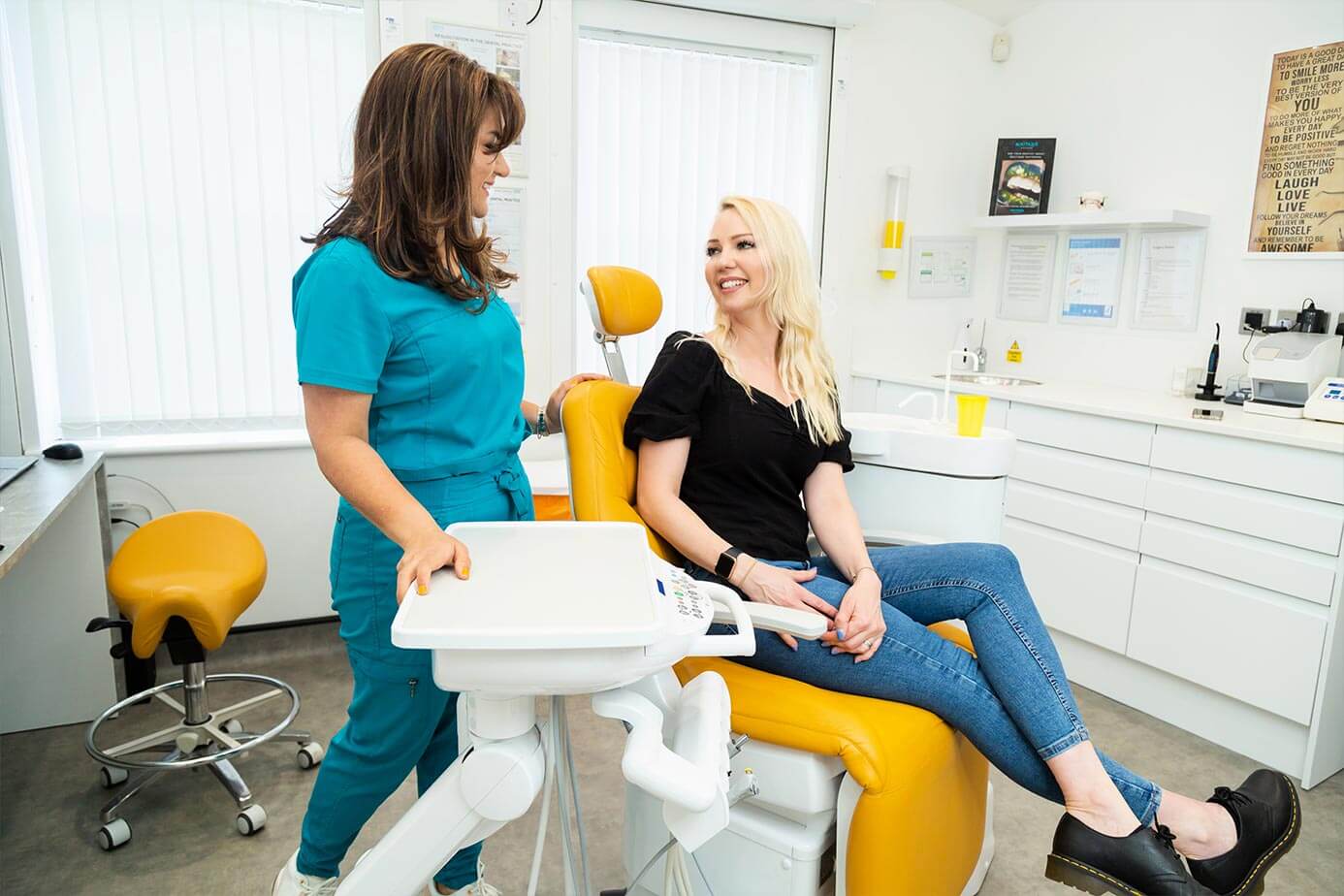 Testimonials
"Brilliant experience at Smile Chic, friendly staff, great atmosphere and most importantly Megan the hygienist made me feel at ease. I highly recommend Smile Chic for that 5star experience. "

StellzBellz11

"Excellent service. The dentist explained everything in detail. Very relaxed and no rush. Highly recommend for private dental treatment."

Mongooserules 15

"Everything was perfect, dentist was really good. Best treatment I've had. Thank you"

Shirin Mohammadi
Dental implants before and after examples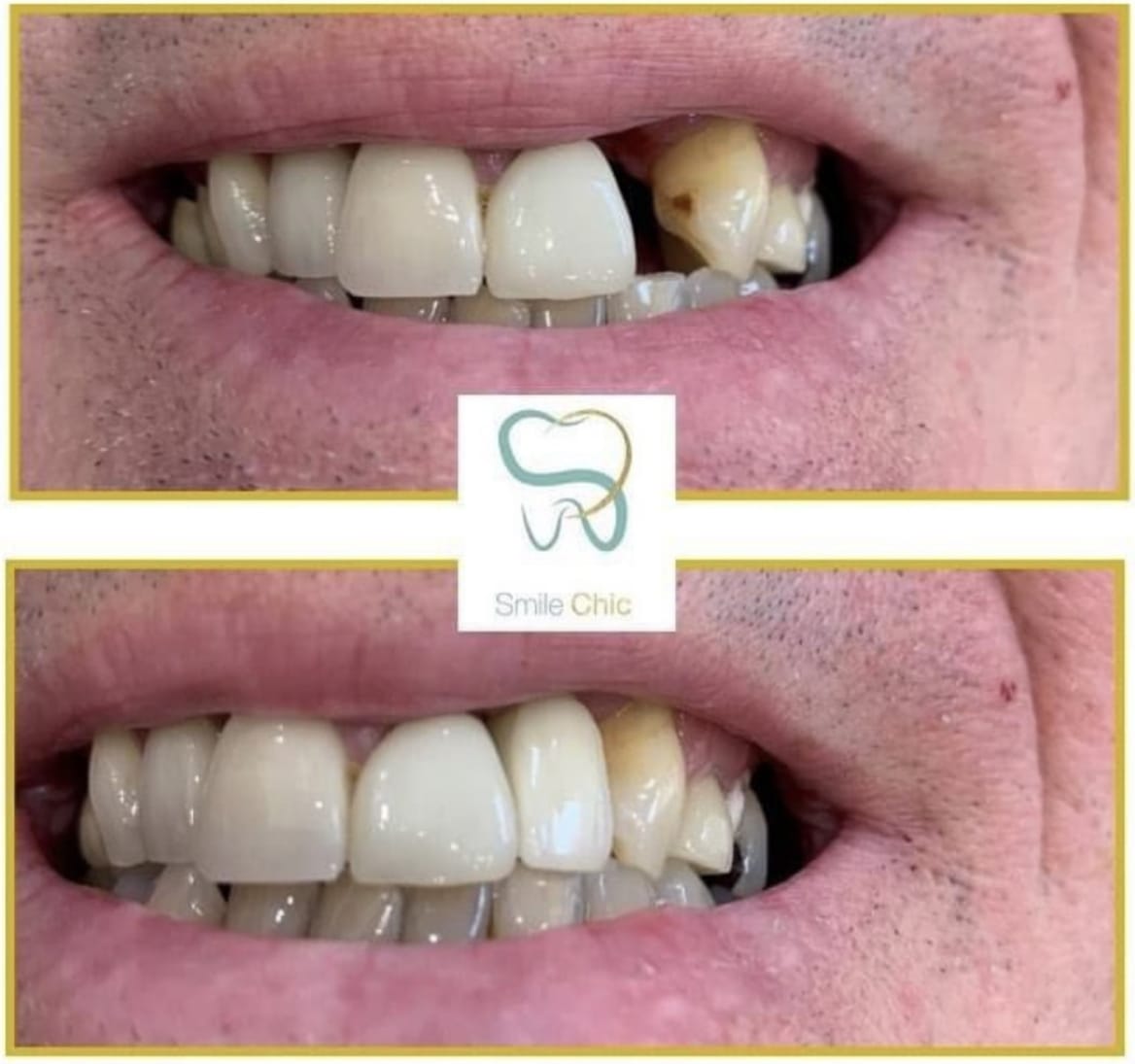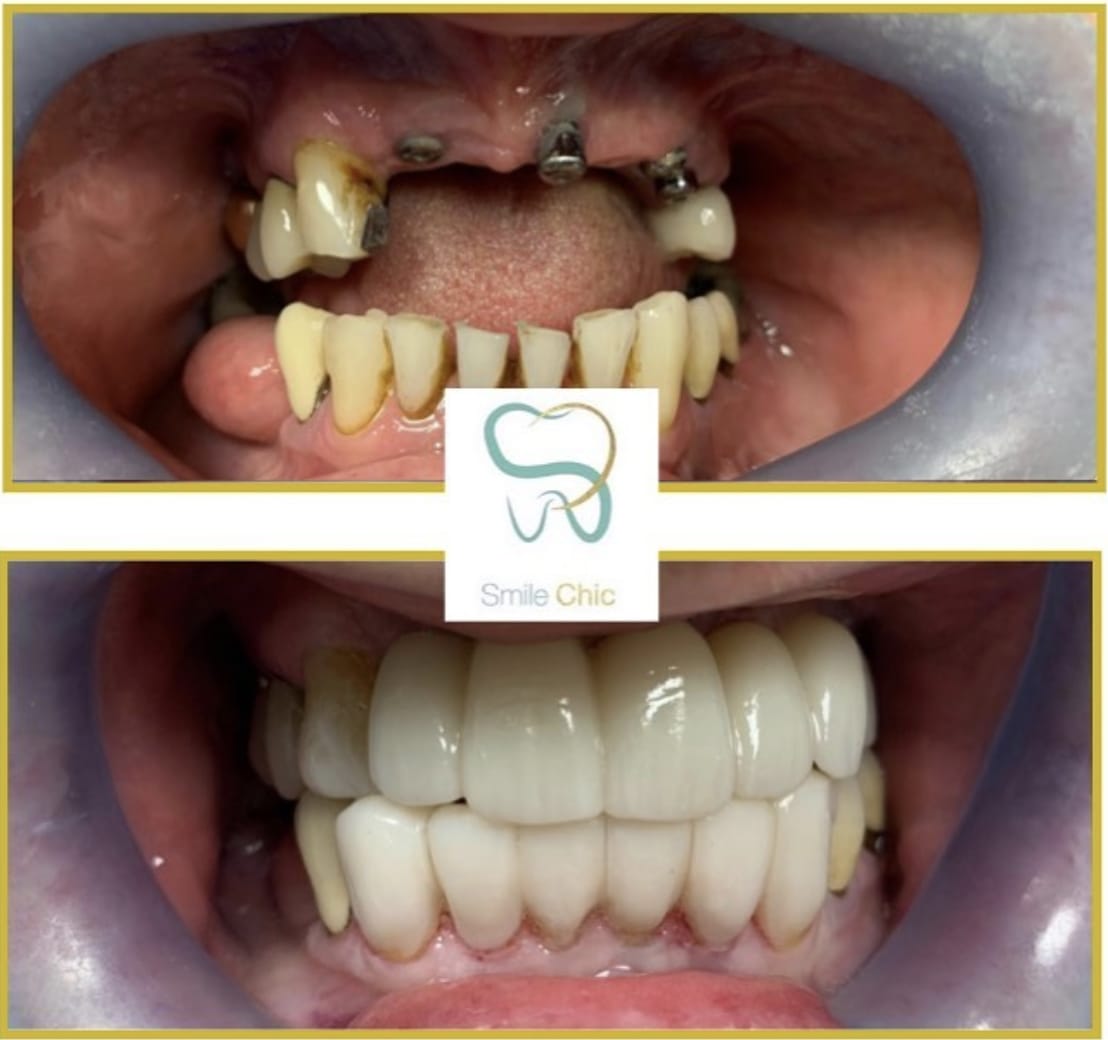 Frequently asked questions
Dental Implant FAQs
Who are dental implants suitable for?
Dental implants are suitable for most people in good health with suitable gum tissue and bone structures in their jaw to support an implant, although sometimes bone grafting is necessary for the procedure.
Your dental specialist will go over your medical history to ensure your suitability for the procedure.
How long do dental implants last?
Dental implants can last for a considerable period of time, but this is all down to how well they are cared for.
As with all dental care, you will see the benefit in your teeth, gums, and any dental implants you may have by practising good oral hygiene habits.
Can I get a dental implant years after a tooth extraction?
Dental implants require good oral care, but when looked after, they can last for a considerable period of time.
As with all dental care, you will see the benefit in your teeth, gums, and any dental implants you may have by practising good oral hygiene habits.
Is dental implant surgery painful?
As this procedure requires a general anaesthetic to carry out, there will be some pain in the days following traditional dental implant surgery. Pain, bruising, and swelling tend to subside over the week following the implant surgery.
Some tips for handling the pain during your recovery period include;
Take things easy. It would be best if you tried to avoid any action that could dislodge the blood clots that will result in bleeding.
Follow the dentist's instructions in regards to dental care.
Apply ice to any swelling, gently apply a cooling compress to the outside of your face to help reduce swelling.
Keep an eye on things to ensure your recovery is going to plan.
Eat things like yoghurt or warm soup, try to stay away from any extremes in temperature or anything that requires chewing.
What is the best treatment to replace missing teeth?
There are great treatments available depending on the patient's needs. If you are looking for permanent dentures rather than removable replacement teeth, dental implants may be the best choice for you.
Dental implants are not usually available on the NHS, with only those deemed to have a medical need being eligible. Those looking for this treatment would have to look at private options.
You will feel confident in how you look and feel without worrying about regular visits to the dentists or what you can eat.
Though dental implants cost may be higher than other treatments, they keep your mouth and jaw healthier in the long term than a traditional removable denture. The longer-term benefits should outweigh any concerns you may have over cost.