Removable Braces Manchester
Orthodontic treatment is designed to straighten teeth, correct your bite and help you achieve the smile you've always dreamed about. At Smile Chic we understand every set of teeth is different and so is every patient. That's why we offer bespoke teeth straightening treatment plans for both adults and children using removable braces to achieve the best results and accommodate each patient's preference and facial profile. Removable braces, or clear aligners, realign teeth while having a minimal effect on your appearance.
Removable braces are a revolutionary way to invisibly straighten your teeth. Forget fixed brackets and wires. We use clear, removable plastic aligners to gradually push your teeth into alignment. No one will know you've even got them on unless you choose to tell them.
To find out more about removable braces or to book your appointment, get in touch with Smile Chic at our Altrincham dental clinic today.
Invisible Braces Treatment
The purpose of your first visit is for us to have the opportunity to examine your face, mouth and teeth to determine what extent of teeth straightening treatment you could benefit from. As part of this assessment, we'll use the latest in scanning technology to take a 3D scan of your teeth. These scans give us a record of where your teeth are currently positioned, and how much movement is required to achieve the perfect smile you've come to us for!
If you have decided to proceed with removable braces as your preferred treatment method, we'll scan your teeth using our state-of-the-art IntraOral digital scanner to get impressions of your teeth from which your custom-made aligners can be made. At your following appointment we will show you your individualised movies and order your removable aligners.
The number of aligners you'll need will depend on the extent of your misalignment. Each aligner needs to be worn for 20–22 hours a day and should only be taken out to brush, floss, eat and drink anything except plain water. This will keep your teeth straightening treatment on track.
Roughly every 2 weeks, you'll move onto the next set of aligners in the series and we will see you every 6 weeks to check it's all going well. Treatment takes on average 12 months to get your teeth into the desired position but you can start to enjoy your smile with growing confidence from those first few weeks as you see your teeth move into place.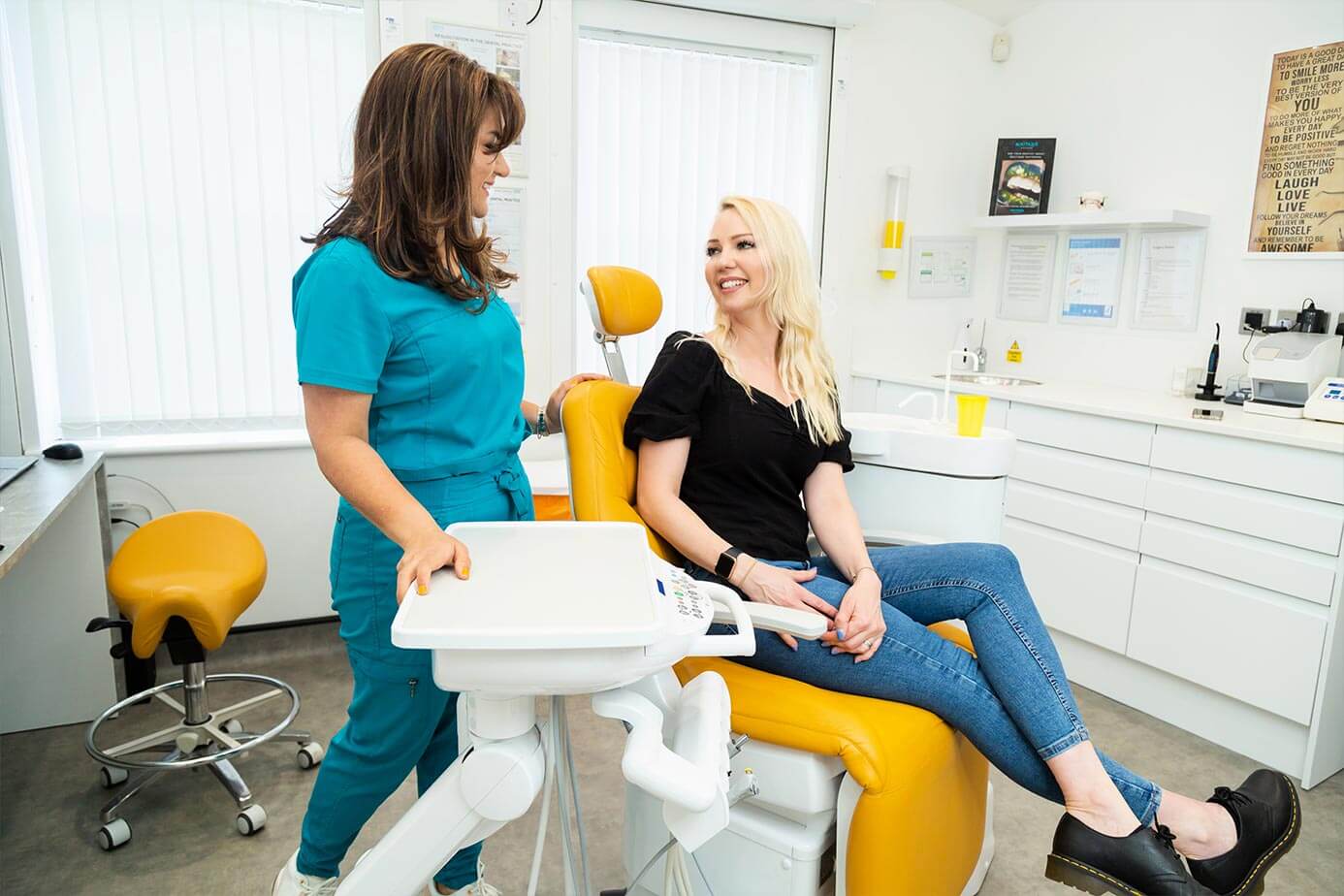 Testimonials
Here's why 85% of clients rebook
""Thank you, for your Warming and great greeting service, u feel very good after the service and hope you're all well. Very Quick and fast appointment and did everything I wanted right away THANKYOU x""

DAMIAN STEPINSKI

""I had my teeth straightened with Dr Rad. The whole treatment went very smoothly . My treatment completed in 4 months. I had my teeth whitened after. The clinic is very modern and clean . Highly recommend Dr Rad and the whole team at Smile Chic.""

MANSOUR RAD

""Dr Persheng Rad; a dedicated, astounding professional, together with her team; driven by excellence in customer satisfaction, prioritises their patients care, advises and guides their patient's appropriate needs for lasting outcomes. I have recently completed a course of treatment consisting of a post/core and crown by Persheng. I'm very impressed with the high standard of care, quality of material and the work done. I also had a hygiene session (airflow) with Megan and I am extremely satisfied with the overall look. ""

KHASHAYAR SHAMSI
Frequently asked questions
Why Consider Removable Braces
Yes! You're never too old for braces!
Adults can have orthodontic treatment at any age. In fact, in certain circumstances it can be a much better choice to avoid having other complex and expensive conventional dental treatments such as cosmetic crowns and veneers on the front teeth. Clear aligners are an effective alternative to traditional braces.
In our experience, both personally and professionally, there is no discomfort for almost all of your treatment. We will be sure to advise you during each stage of your treatment what to expect and how to ease any discomfort. Clear or invisible braces are generally more comfortable than fixed braces, both at adjustment and also during wear.
Do braces hurt when they are first put on?
You may find the brackets and wires a little sharp against the inside of the mouth. Your dentist will often provide you with soft wax that you can apply to any sharp bits in order to ease the discomfort against the inner surfaces of the mouth.
Do braces hurt when they are adjusted?
Depending upon the adjustment, sometimes a thicker wire is applied which progressively increases the force applied that is moving your teeth. If this is the case, you can sometimes expect to feel a little discomfort for a few days again.